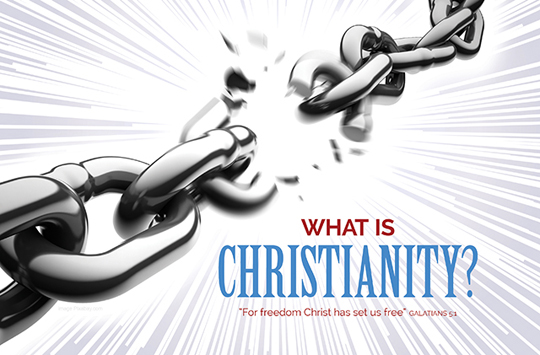 What is Christianity? The Christian faith is often poorly understood. It's frequently distorted in the mainstream media.
Many people seem to think that Christianity is about moralism (be a good person to earn God's favor), or about following the rules. Some people think evangelical Christianity is a political movement. 
Christianity is not primarily about politics or following the rules. Christianity is about a relationship with Jesus Christ. It's about being put back into a right relationship with God through Jesus. It's about being transformed by the Holy Spirit. 
This important book of the Bible shows us the heart of Christianity. It shows us how to have true freedom.
To listen to the audio of each sermon, click on the link next to the date. To read the sermon, click on the link next to "Manuscript." You can also listen to these sermons through nearly any podcasting app on your phone or tablet. Just search for "West Bridgewater Community Church" and subscribe.
---
June 14, 2015: The Only Good News (Galatians 1:1-9)
Manuscript: The Only Good News 6.14.15
---
June 21, 2015: A Revelation of Jesus Christ (Gal. 1:10-24)
Manuscript: A Revelation of Jesus Christ 6.21.15
---
June 28, 2015: Confronting Hypocrisy (Gal. 2:1-14)
Manuscript: Confronting Hypocrisy 6.28.15
---
July 5, 2015: Justification (Gal. 2:15-21)
Manuscript: Justification 7.5.15
---
July 12, 2015: The Righteous Shall Live by Faith (Gal. 3:1-14)
Manuscript: The Righteous Shall Live by Faith 7.12.15
---
July 19, 2015: The Purpose of the Law (Gal. 3:15-29)
Manuscript: The Purpose of the Law 7.19.15
---
July 26, 2015: Adopted Children of God (Gal. 4:1-7)
Manuscript: Adopted Children of God 7.26.15
---
August 2, 2015: Love for a Church (Gal. 4:8-20)
Manuscript: Love for a Church 8.2.15

---
August 16, 2015: Slavery (Gal. 4:21-31)
Manuscript: Slavery 8.16.15
---
August 23, 2015: Freedom (Gal. 5:1-15)
Manuscript: Freedom 8.23.15
---
August 30, 2015: The Flesh and the Spirit (Gal. 5:16-26)
Manuscript: The Flesh and the Spirit 8.30.15
---
September 6, 2015: Bearing Each Other's Burdens (Gal. 6:1-10)
Manuscript: Bearing Each Other's Burdens 9.6.15
---
September 13, 2015: What Matters: A New Creation (Gal. 6:11-18)
Manuscript: What Matters-A New Creation 9.13.15