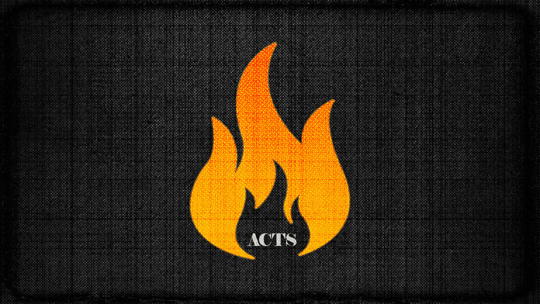 From February 14 to September 11, 2016, Pastor Brian preached through the book of Acts. This book of the Bible picks up where the Gospel of Luke leaves off. It begins with Jesus' ascension and to heaven and ends, roughly thirty years later, with Paul preaching the gospel in Rome. This book teaches us what God did in those years, how the apostles told others about Jesus, and how the early Christians figured out how to include both Jews and Gentiles into the one people of God, among many other things.
The preaching schedule below is subject to change.

To listen to the sermon, click on the link next to the date. To read the sermon, click on the link next to "Manuscript."
You can subscribe to our sermon podcasts on iTunes, Google Play, and many other podcast apps, such as Pocket Casts, and Stitcher. Just search for "West Bridgewater Community Church" and subscribe.
---
February 14: Acts 1: "Witnesses"
Manuscript: Witnesses 2.14.16
---
February 21: Acts 2: "The Mighty Works of God"
Manuscript: The Mighty Works of God 2.21.16
---
February 28: Acts 3: "Restoring All Things"
Manuscript: Restoring All Things 2.28.16
---
March 6: Acts 4:1-31: "No Other Name"
Manuscript: No Other Name 3.6.16
---
March 13: Acts 4:32-5:11: "Everything in Common" 
Manuscript: Everything in Common 3.13.16
---
March 20: Acts 5:12-42: "Worthy to Suffer Dishonor for the Name"
Manuscript: Worthy to Suffer Dishonor for the Name 3.20.16
---
April 3: Acts 6:1-7: "Word and Deed"
Manuscript: Word and Deed 4.3.16
---
April 10: Acts 6:8-8:3: "Not Made by Human Hands"
Manuscript: Not Made by Human Hands 4.10.16
---
April 17: Acts 8:4-40: "Proclaiming the Word" 
Manuscript: Proclaiming the Word 4.17.16
---
April 24: Acts 9:1-31: "Conquering Saul"
Manuscript: Conquering Saul 4.24.16
---
May 1: Acts 9:32-11:30: "Lord of All"
Manuscript: Lord of All 5.1.16
---
May 8: Acts 12:1-24: "Violent Hands"
Manuscript:Violent Hands 5.8.16
---
May 15: Acts 12:25-13:52: "The Message of This Salvation"
Manuscript: The Message of This Salvation 5.15.16
---
May 29: Acts 14: "Turn from These Vain Things to a Living God"
Manuscript: Turn from These Vain Things to a Living God 5.29.16
---
June 5: Acts 15:1-35: "We Will Be Saved through the Grace of the Lord Jesus"
Manuscript: We Will Be Saved through the Grace of the Lord Jesus 6.5.16
---
June 12: Acts 15:36-16:15: "God Had Called Us to Preach the Gospel to Them"
Manuscript: God Had Called Us to Preach the Gospel to Them 6.12.16
---
June 19: Acts 16:16-40: "All the Doors Were Opened"
Manuscript: All the Doors Were Opened 6.19.16
---
June 26: Acts 17:1-15: "Examining the Scriptures"
Manuscript: Examining the Scriptures 6.26.16

---
July 3: Acts 17:16-21: "The City Was Full of Idols"
Manuscript: The City Was Full of Idols 7.3.16
---
July 10: Acts 17:22-34: "The God Who Made the World and Everything in It"
Manuscript: The God Who Made the World and Everything in It 7.10.16
---
July 17: Romans 1:18-25; 12:1-2: "Be Transformed by the Renewal of Your Mind"
Manuscript: Be Transformed by the Renewal of Your Mind 7.17.16
---
July 24: Acts 18:1-23: "Do Not Be Afraid, but Go on Speaking"
Manuscript: Do Not Be Afraid, but Go on Speaking 7.24.16
---
July 31: Acts 18:24-19:41: "The Way of God More Accurately"
Manuscript: The Way of God More Accurately 7.31.16 
---
August 7: Acts 20: "Declaring to You the Whole Counsel of God"
Manuscript: Declaring to You the Whole Counsel of God 8.7.16
---
August 14: Acts 21:1-23:11: "Let the Will of the Lord Be Done"
Manuscript: Let the Will of the Lord Be Done 8.14.16
---
August 21: Acts 23:12-24:27: "A Clear Conscience"
Manuscript: A Clear Conscience 8.21.16
---
August 28: Acts 25-26: "True and Rational Words"
Manuscript: True and Rational Words 8.28.16
---
September 4: Acts 27: "There Will Be No Loss of Life among You"
Manuscript: There Will Be No Loss of Life among You 9.4.16
---
September 11: Acts 28: "And so We Came to Rome"
Manuscript: And so We Came to Rome 9.11.16