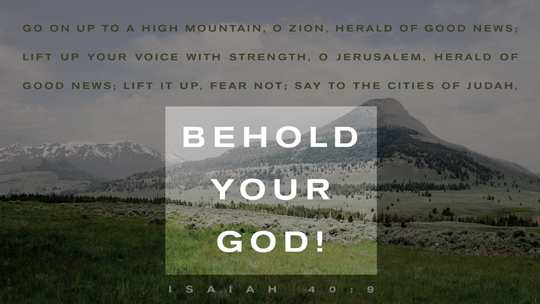 This Christmas season (December 1–29), we'll learn about who Jesus is by looking at some passages from the book of Isaiah. Passages from this Old Testament book are often read during Advent, because Isaiah prophesied of the coming Messiah. We'll look at passages that describe who God is, why he created us, what our problem is, why Jesus is such a big deal, what he came to do, and how God will restore the whole universe.
The schedule of sermons can be found below. (The schedule of upcoming sermons is subject to change.)
To learn more about the book of Isaiah, watch these videos made by The Bible Project.
To listen to the audio of each sermon, click on the link next to the date. You can also listen to these sermons through nearly any podcasting app on your phone or tablet. Just search for "West Bridgewater Community Church" and subscribe.
---
December 1, 2019: The Gospel according to Isaiah: God and Creation
Manuscript: The Gospel according to Isaiah 12.1.19
---
December 8, 2019: The Gospel according to Isaiah: Sin and Idolatry
Manuscript: The Gospel according to Isaiah 12.8.19
---
December 15, 2019: The Gospel according to Isaiah: A Son Is Given
Manuscript: The Gospel according to Isaiah 12.15.19
---
December 22, 2019: The Gospel according to Isaiah: My Servant
Manuscript: The Gospel according to Isaiah 12.22.19
---
December 24, 2019: The Gospel according to Isaiah: God with Us
---
December 29, 2019: The Gospel according to Isaiah: A Whole New World
Manuscript: The Gospel according to Isaiah 12.29.19